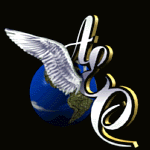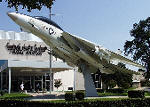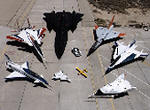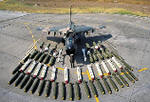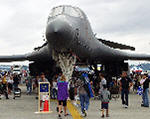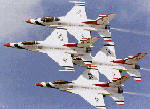 McDonnell
F-101A
'Voodoo'
Description

&nbsp Manufacturer:
McDonnell
&nbsp Base model:
F-101
&nbsp Designation:
F-101
&nbsp Version:
A
&nbsp Nickname:
Voodoo
&nbsp Designation System:
U.S. Air Force
&nbsp Designation Period:
1948-Present
&nbsp Basic role:
Fighter
&nbsp Crew:
Pilot
Specifications

| | | |
| --- | --- | --- |
| &nbsp Length: | 67'5" | 20.5 m |
| &nbsp Height: | 18' | 5.4 m |
| &nbsp Wingspan: | 39'8" | 12.0 m |
| &nbsp Wingarea: | 368.0 sq ft | 34.1 sq m |
| &nbsp Empty Weight: | 24,970 lb | 11,360 kg |
| &nbsp Gross Weight: | 48,120 lb | 21,827 kg |
| &nbsp Max Weight: | 50,000 lb | 22,680 kg |
Propulsion
&nbsp No. of Engines:
2
&nbsp Powerplant:
Pratt & Whitney J57-P-13 (A/B 15,000Lb/6,804Kg)
&nbsp Thrust (each):
10,200 lb
4,627 kg
Performance
&nbsp Range:
1,900 miles
3,060 km
&nbsp Max Speed:
1,009 mph
1,624 km/h
877 kt
&nbsp Climb:
44,100 ft/min
224 m/min
&nbsp Ceiling:
55,800 ft
17,010 m
History
Date
Subject
Event
1957/05/02
United States Air Force,

The 27th Strategic Fighter Wing received the first F-101A delivered to an operational unit.
1957/12/12
United States Air Force,
Drew, Adrian

Operation Fire Wall: Maj. Adrian Drew, of the 27th Fighter Bomber Wing, Begstrom AFB, TX. established a world speed record of 1,207.6 mph in a F-101A Voodoo (sn 53-2426) in a course over Edwards AF, CA.

1958/09/25
United States Air Force,

Operation Long Leap: An F-101A flew 1,896 miles between Carswell AFB, TX. and Bermuda. This was the longest non-stop / un-refueled flight for any century series fighter.
Known serial numbers

53-2418 / 53-2422, 53-2423 / 53-2430, 53-2431 / 53-2436, 53-2437 / 53-2446, 54-1438 / 54-1443, 54-1444 / 54-1452 , 54-1453 / 54-1465 , 54-1466 / 54-1485
Examples of this type may be found at
---
&nbsp
Recent comments by our visitors

Jon Saunders
, OTH
Desperately seeking an 81st PMS patch. Has anyone got one for sale.

Many thanks
bonnechance@tesco.net
07/21/2012 @ 10:24 [ref: 63810]
R.ROBINSON
Cornwall,England, OTH
Has anyoneserved with the 481stTFS,27TFW.
Operated F-101,s at Bergstrom ,Tx.1957-58.
Would like a photo of an aircraft from the 481st ,with green tails and silver stars .Will be very grateful for any help .
Robbie Robinson.
02/14/2012 @ 06:49 [ref: 53012]
Franklin D. Wells
, TX
Worked on the big bird 1960-1963 81st TFW went on many exchange of NATO Power visit with it always grab the show. Me 81st A&E weapons loading sure miss those days
11/02/2011 @ 18:13 [ref: 49950]
Franklin D. Wells
, TX
Worked on the big bird 1960-1963 81st TFW went on many exchange of NATO Power visit with it always grab the show. Me 81st A&E weapons loading sure miss those days
11/02/2011 @ 18:13 [ref: 49949]
Joseph R Wagner Jr
Philadelphia, PA
Stationed with the 81st TFW.,81St PMS at RAF Station Bentwaters from 9/59 to 9/63. Transferred to Edwards AFB 9/63 to 6/65. Ast.C/C on NF101A 53-2422 at EAFB. The F-101 was a great aircraft sad t see NF-101A 32422 in a such a sad state on the bombing range at EAFB. It was part of the astronaut training program at Edwards.
06/06/2011 @ 13:31 [ref: 39198]
george wowk
, PA
I just went back on and typed it in instead of clking it from my favorites and got there,they have all the voodoo patches comoxairforcemuseum.ca
05/17/2010 @ 10:20 [ref: 26183]
george wowk
, PA
I replaced my patches from comoxairforcemuseum.ca
in canada.Tried to go back there online but says cannot be found.
I was a crewchief on an F-101B at KI Sawyer AFB Mich.
Stationed there 60/61/62
05/17/2010 @ 10:01 [ref: 26182]
ALBERT SCHOESSOW
SARASOTA, FL
I worked as an aircraft radio and navigational equipment technician in the 81st TFW at Bentwaters in the UK from 59 to 62. I have been reading all the sites on the F-101A/C and really enjoyed all the neat info. It was especially neat to find out that our aircraft were converted to RF designation and some of them even saw combat over Vietnam. In the sites it is mentioned that outwardly there was no difference between the A and the C models. Just as a point of information there is a way you can tell. If you look at the vertical stabalizer near the top, in the front about 4 inches down from the UHF antenna cover, there is round opening. This can be found only on the C models.
12/21/2009 @ 17:29 [ref: 25455]
Charles Koury
woonsocket, RI
Where can i obtain a voodoo medcine man patch some years ago i mistplaced my patch.
12/08/2009 @ 14:05 [ref: 25403]
Charles Koury
woonsocket, RI
Where can i obtain a voodoo medcine man patch msome years ago i mistplaced my patch.
12/08/2009 @ 14:04 [ref: 25402]
&nbsp
Recent photos uploaded by our visitors